PVD Accreditation Tiers & Criteria
At PVD we believe a trade association should be open to as broad a membership as possible; at the same time, we have to maintain standards and adhere to our mantra of 'Skilled, Proven, & Insured.' In the past we haven't insisted on face-to-face evaluation and assessment as the added cost would have put membership out of reach for many, while those in more remote parts of the nation would have been discriminated against as a result of the extra travel costs. We also came upon a difficult quandary - who has the right to assess others? And who should assess the assessors?
As an association we were criticised in some quarters for not having compulsory assessments, instead we relied on a pragmatic approach based on customer reviews, self-declared experience, training certificates, insurance certificates, plus online presence. As of summer 2019 we are introducing an entirely different system which maintains the accessibility for car care professionals in the early stages of their career, while also creating optional certifications for those wanting to highlight their skills that have been hard earned over many years.
This new system has created three different tiers, all of which have different criteria to suit people at different stages of their career. This allows clients to make their own choice when it comes to selecting a professional that best suits their needs.
Insurance criteria are common to all members - regardless of which directory they are on, we require certificates and schedules for the below:
Public Liability & Accidental Damage compulsory for all members. For those who work in marine or aviation sectors, additional cover is required.
Unit Custody insurance compulsory for all members who operate from unit - be it their own unit, a home garage, or a shared location. If the insurance is provided by the owner of the unit, we still require evidence to show you are covered.
Traders Road Policy for all members who drive customer cars on public or private roads (this is distinct from 'shunting' cover).
For those who transport customer cars on trailers or flat-bed trucks, we require proof of cover for vehicles while in transit.
The Approved PVD Member tier is designed for those who are either relatively new to the industry and are still developing their skills and building their experience, or for members who do not wish to take further assessments.
All those wishing to join are required to complete the application form which gives us the basic information required to initiate the accreditation process. The process itself is divided into three broad topics - skills, insurance, professionalism. In the event one or more of the criteria isn't met, or we require further evidence, the candidate will be emailed and asked to supply further information and supporting evidence. Initial accreditation normally results in one of four outcomes.
In some circumstances a business is simply not eligible for membership - for example if it has multiple poor reviews and outstanding customer complaints that have not been dealt with in a professional manner.
In some circumstances, membership is denied at that time, but candidates are encouraged to re-apply in the future. This is normally the case with young businesses or ones that are run on a casual basis.
In some circumstances an application is accepted with caveats - certain elements that need to be changed to prior to commencement of membership such as service description and pricing.
In some circumstances businesses are accepted without any added conditions - this is often the case for long-established companies with a strong industry reputation. Typically 5% of applications are accepted without condition, 50% with caveats, 35% are encouraged to reapply in 6 - 18 months, and 15% are denied and discouraged from re-application.
For the skills component of accreditation we look at the training courses completed, years of amateur and professional experience, images of your work, descriptions of your methodologies, and any recommendations from current PVD members. The insurance element involves close inspection of your documents, essentially ensuring they are appropriate for the services you offer, valid and in date, and underwritten by legitimate insurance companies. Finally we judge professionalism on a broad range of criteria including your social media, complaint handling (if applicable), service description, pricing, and general online conduct. We also deep search for historic complaints on multiple platforms including owners forums and third party review websites.
Ultimately we take a pragmatic approach - with over seven years of experience helping car care companies, we can usually judge which applicants are suitable for membership. We will be introducing an accelerated professional development course and assessment for businesses that don't quite meet entry criteria. This will only be available to individuals who demonstrate a positive, proactive, professional attitude but are hamstrung by their lack of professional experience. More information will be made available in our Training & Assessment section HERE.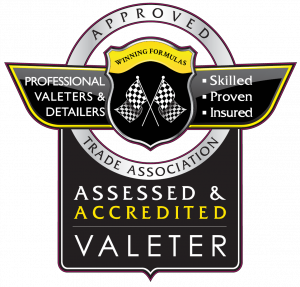 Accredited Valeter status is for established car care professionals who wish to demonstrate that they have the skills and experience that sets them apart. Thorough process, chemical, and material science knowledge is expected.
The PVD Assessment System is constructed of ten modules. Successful completion of the first five modules results in a member being awarded Accredited Valeter Status.
The first module covers wash and decontamination procedures and is comprised of both a theory assessment taken under examination conditions, and a practical assessment. The second module covers interior treatments and again requires completion of both theory and practical assessments. The third module covers surface protection and is examined through both written and practical assessments. The fourth module is theory only and covers advanced chemical and basic mechanical knowledge. The fifth and  final module is a three part process that covers professionalism and customer care - as well as practical and theory assessments there is also a remote business assessment.
Though these assessments ostensibly cover 'valeting' topics, they are pitched at the same level of difficulty as the subsequent five 'detailing' modules. These have to be passed by those wishing to go on to complete the next five modules and they will challenge even experienced detailers. A typical amateur detailer is unlikely to be able to pass these assessments, and candidates are strongly advised to study the resource documents that will be sent prior to the assessment date with a view to researching and revising areas in which the candidate feels their knowledge may be lacking.
Each module has a fixed price regardless of where in the UK they are taken. This fee is paid in advance directly to the assessor and is primarily to cover their own costs. Some approved assessors may choose to link assessments with specific training courses, in which case costs may vary. Please note that these assessments cannot be passed by simply attending them. The modules themselves are split into sections, and should a candidate narrowly fail the assessment, they maybe eligible to retake individual sections at a later date at reduced cost. Candidates will receive one of four results for each module - fail, pass, merit, distinction. For those wishing to continue to the next five modules to attain the Certified Detailer status, a merit or better will need to be achieved in every module.
Certified Detailers represent the top of the industry, the assessments are the toughest available both in the UK and worldwide, and even experienced detailers need to dig deep to pass them.
In order to be awarded the Certified Detailer status, candidates will need to pass modules 1-5 with a merit or above score. They will then need to complete modules 6-10 with an average of a merit score. All the modules have a practical and theory element, bar the theory-only ninth module and the practical only tenth module, which is assessed over two to three days. Module six covers paint correction, M7 covers wet sanding, touch-up and other advanced detailing techniques. The eight module is dedicated to ceramic coatings while the penultimate module requires a solid theoretical knowledge of processes and techniques that fall just outside of the remit of a detailer, but remain relevant.
As per the first five modules, the five 'detailing' modules are fixed price apart from the final module which is free. The final module is unlike any exam or conventional assessment, and can only be taken once the preceeding nine modules have been completed - please see the assessment descriptions for more information.
For those wanting to gain certification in specific areas that aren't covered in the core ten modules, there are a number of other assessments available covering topics such as leather repair and PPF application. Some of these will require other modules to be passed in advance of application. For those wishing to become a PVD Approved assessor, all ten core modules need to be completed with a distinction score. You will be required to take further modules tailored to teaching and assessing, and there are various other pre-requisites, mostly pertaining to having the facilities required to host assessments.
Honing your skills as a detailer relies on both experience and correct training. However, teaching and inspiring others is a very different skill that not all detailers possess. To be an accredited PVD trainer there are various pre-requisites. Firstly you have to be able to demonstrate that you have the knowledge and skills on the topics you are training. Secondly you need the presentation skills and patience to impart that information in manageable portions, while reading your audience to ensure they are understanding you.
On an administrative level you will need appropriate facilities to train in - depending on the courses offered these may include a suitably equipped classroom, work space, and hospitality facility. Furthermore you will need the appropriate professional indemnity insurance, which is rarely included in conventional tradesmen cover unless explicitly requested. Please note that this is distinct from liability insurance.
Collateral is another important element to consider - part of the PVD Trainer Orientation course runs through the learning and assessment resources provided with PVD course packs so they can be used to best effect. If offering your own courses to a different syllabus, we will need to see the lesson plans and support materials to ensure they are accessible and thorough.