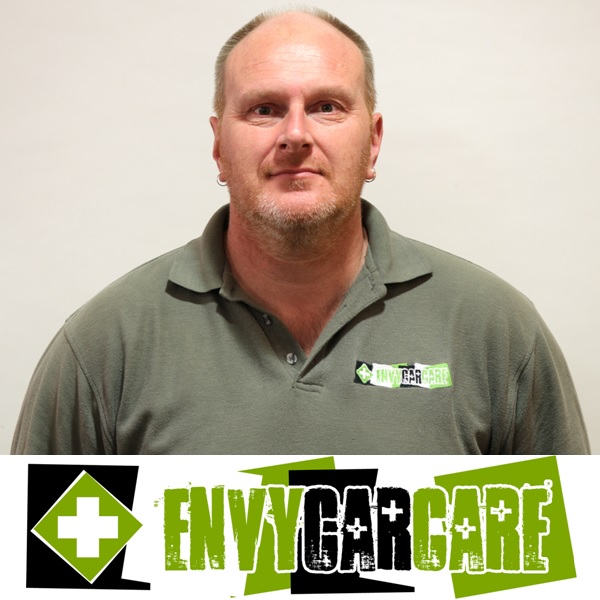 Envy Car Care is run by Tim Bomford and based in Gosport, Hampshire. As well as offering valeting and detailing services, Tim offers a range of car care products, including his own bespoke range.
All products are available both online and in the walk-in shop, and all PVD Members benefit from a 15% trade discount with no minimum order quantities. Most products are also available in bulk sizes.
As an experienced detailer, the Envy Car Care range has been designed to work quickly and safely - they do exactly what they say on the tin. All the other brands available have been rigorously tested by Tim himself.
Tim is a long-term PVD Supporter and highly respected industry figure. He is always happy to take the time to help advise people - be they keen amateurs or fellow professionals. Tim is also a PVD Board member and able to carry out various training courses and assessments.
Keep Up to Date with Envy Car Care
Envy Testimonials
Knowledge, advice and attention to detail along with amazing communication ensured that a large project was handled smoothly, the application of first class products as well as working with premium suppliers ensured that nothing was too much trouble, Tim and his team worked hard from start to finish and the end result is really impressive. - Stuart French
Tim has a professional but friendly approach and his attention to detail is second to none. He went to great lengths to accommodate my slightly hasty booking and did an ace job into the bargain. Highly recommend, I will be going back! - Ollie Cornish                                                                                                                                                                                                                                                                             
Found Envy and discovered plenty of great reviews for Tim's work. Glad I did. You expect a great job when paying for detailing and Tim didn't disappoint but his great work aside what would singularly make me recommend Tim is that he's just such a decent guy. He made the options very clear and spelt out the differences neither pushing one nor the other. Nice guy and great work. - Kieron Johnson
Previous visit was so good I decided to bring the wife's car in. Another excellent job which turned a 6 year old car with scratches and all sorts back looking like brand new. Tim was very flexible and did a great job. Will be back again. - Dan Hoyle                                                                                                                                                                                                                                                                                       
Just collected my Carbon Black E46 M3 after being detailed by Tim and it has come out beautiful. Can't wait for the sun to come out to see the gloss without all the swirls that were on it before! Brilliant, friendly service and top quality work, will certainly be recommending. - Robbie Khan                                                                                                                                                                                                     
So pleased I let Tim take my beloved Yeti under his wing. She came back sparkling,better new and smelling as sweet as an angel. Thank you for you hard work. - Paula Hemmingway                                                                                                                                                                                                                                                                                                                                                                                                 
Superb job on my Fiesta. 5 1/2 years old and looks like new. The interior was in a bad way and Tim really turned it around. I would not hesitate to recommend Tim and Envy. - Ian Wettingsteel                                                                                                                                                                                                                                                                                                                                                                             
So pleased I found Tim who did a great professional job; really pleased with the result and my car looks better than showroom new! Have already booked in my wife's car for the same treatment and will be taking mine back for a refresh in 6 months time. - Steve Badman                                                                                                                                                                                                                 
Customer service is impeccable! Purchased Envy detailing brushes on Sunday evening and within and hour I had order confirmation and was informed they would be in the post first thing Monday morning! Brilliant! - Brad Ryan                                                                                                                                                                                                                                                                                                     
Purchased many products and also a Kranzle pressure washer and Flex rotary from Tim in the past, always superb service and prompt delivery with well packaged orders. look forward to detailing my car with him soon, given the high quality work he turns out i can't wait to see the finished result
🙂 - Kev Lewington                                                                                                                                     
Find Out How it All Began
Envy Valeting was launched in 2006 by Tim Bomford, who had been a keen amateur detailer for many years. In just two years, Tim was able to quit his day job as a nuclear scientist and turn his full attention to car care.
Brought up in Burford, Oxfordshire, Tim had moved down to Hampshire and offered mobile services around the south coast. Soon word spread and he was called on from all over the UK, including the Isle of Man - as keen motorcyclist this was a particular perk! With a thriving business, Tim was getting frustrated with over-priced and under-performing products so decided to develop his own range: Envy Car Care was born.
Products were developed one-by-one over a number of months with the help of top chemists to combine with his own scientific and car care knowledge. Slowly, going through many prototypes and plenty of consultations with other top detailers, the Envy range came to be, staying true to the mantra of good, reliable product, at a sensible price.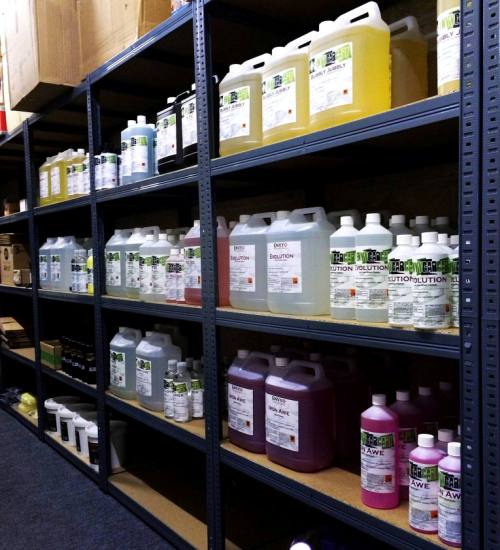 Unsurprisingly the professional market adored the range, and so most products are available both in retail 500ml bottles as well as trade-orientated 5L and 25L quantities. Once or twice a year a new product is added, while existing products are reviewed and updated to ensure they utilise the latest in chemical technology and comply with all necessary safety legislation.
Seven years after starting out, and with the increasing popularity of ceramic coatings that demand specific environmental conditions, Tim moved into a spacious unit in Gosport. Able to fit five cars, along with all the paraphernalia a detailer needs - including the mandatory high-end coffee machine - the unit was a breakthrough.
Furthermore, the new premises has a mezzanine level with a comfortable waiting room and walk-in shop for local Envy fans. As a die-hard petrol-head you'll also normally find a French hot hatch project residing in the shadows - Clio 182's seem to be a perennial favourite.
Unlike big corporate manufacturers, Tim is a strong believer in providing the best products and services for his clients and customers - thus when there isn't an Envy product available, he will use the best the industry can supply. You will find a range of Bouncer's, Siramik, Dodo Juice, and Nanolex products in his arsenal - some of which can also be purchased in the shop.
Tim has been a long-term member of PVD, becoming a friend and mentor of many other members, and he has a well-earned place on the Advisory board too.